In response to Mr. Palotta's Property Tax Relief Plan:

To be serious about tax reform of any kind we need to stop taking the people's money. We are not the Government's peasants to beg for our money back. That's the Palotta and Gottheimer plan. Both seek to allow money to be sent to Trenton and Washington for us to fight to get it back either through tax relief schemes, deductions or false promises of grants and public assistance. This plan is a gimmick and politics as usual.
With this plan Mr. Palotta admits that he doesn't have what it takes to change the tax and spend culture in Trenton or Washington; he's already given up the fight. Instead, we should elect someone who has committed to changing the culture in these swamps. Someone who has committed to supporting, campaigning and fighting back against Murphy and the tax and spend socialists.. A Congressman can fight back by supporting candidates for state and local elections who will commit to our parties primary goals of reducing spending and protecting our civil liberties. Our values and ideas are better than those of the Tax and Spend Socialist.
We continue to nominate and run Republicans who don't sincerely hold to our values, who are more politician than Conservative and more interested in getting the next campaign contribution than doing right by the citizens of our great state! We need to hold these officials accountable when they fail us.
Real tax relief is a tax cut such as my proposed 10% income tax cut for anyone who earns $250,000 a year or less. Instead of standing with Mr. Palotta I stand for the average American who wants to keep their money so we can feed our children, heat our homes and build our American Dream.


Listen as I talk about what has been going on and some plans for the future, for our District, and for our Country's Future. Get on Board! Volunteer Today!
FEBRUARY 19, 2020 at 5 pm- Catch me on....
FEBRUARY 24, 2020 at 5 pm - Catch me on...
PRESS RELEASE!
Nancy Pelosi put on a show of political theater the night of the State of the Union. In response, one of my Republican opponents demanded Congressman Gottheimer get Pelosi to apologize for her actions. This is more political theater.
My Republican opponent is no better than Pelosi and Gottheimer because this is more of the same old shenanigans, politics as usual. They want more of what is destroying our country.
Pelosi will never apologize, just as we knew months ago that the Senate would acquit the president. My Republican colleague knows this, yet still continues the political theater.
Gottheimer was instrumental in Pelosi becoming the speaker of the House. Among others, we have Gottheimer to thank for Pelosi's performance these last few months. Could you trust a Pelosi apology? No! She has called our President an impostor and a liar and impeached him for a political agenda, not a legal one.
Political elites such as Gottheimer and Pelosi aren't like you and me. They hear the President on Tuesday night and think "Orangeman Bad," "Trump Evil'' as a reflex. The ordinary American — you and I — hear the words, "The American comeback story, the death to American-murdering terrorists, the great triumphs over racism and the rising economic American century," cornerstones of President Trump's speech. When Pelosi tore that document, she tore apart the American, you and me. She did it for spite and for theater. Pelosi didn't do it because she loved America. My Republican colleague, Pelosi and Gottheimer are members of the political class and don't feel the same love of America that we do. They see their role as a need to win the political theater. Not represent us, but to represent their party first and America last.
No apology can fix that. Only victory in November can.
James Baldini, Sandyston Candidate for the 5th New Jersey Congressional District
CAMPAIGN KICK-OFF/ FUNDRAISER - Click for TICKETS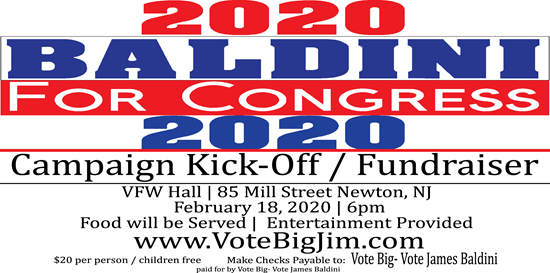 Join Jim for his "Listening Tour" as he goes about the District to hear your thoughts and ideas. Click the link if you wish to join us for an event in your area.
"Socialism is the misguided tool of the compassionate. And the weapon of the evil minded individuals bent on domination of the people."
-James Baldini
"To have a purpose in life. To commit yourself to something meaningful is an honorable act. However, to blindly follow is foolishness. The act of the ignorant. This is what has happened to the current holder of the congressional seat of the 5th district. This shouldn't be surprising. He's a transplant to the district, with outside of the district money backing him. He follows FAKE New Jersey Values. He believes in Socialism and has every intention of Following the GREEN NEW DEAL proposed and supported by the Democratic Party!"
- James Baldini
"If you follow Comrade Josh, you will follow him off the economic cliff with the rest of the Democratic Party"
- James Baldini